STG's Joyously Busy Great British Adventure Map - Framed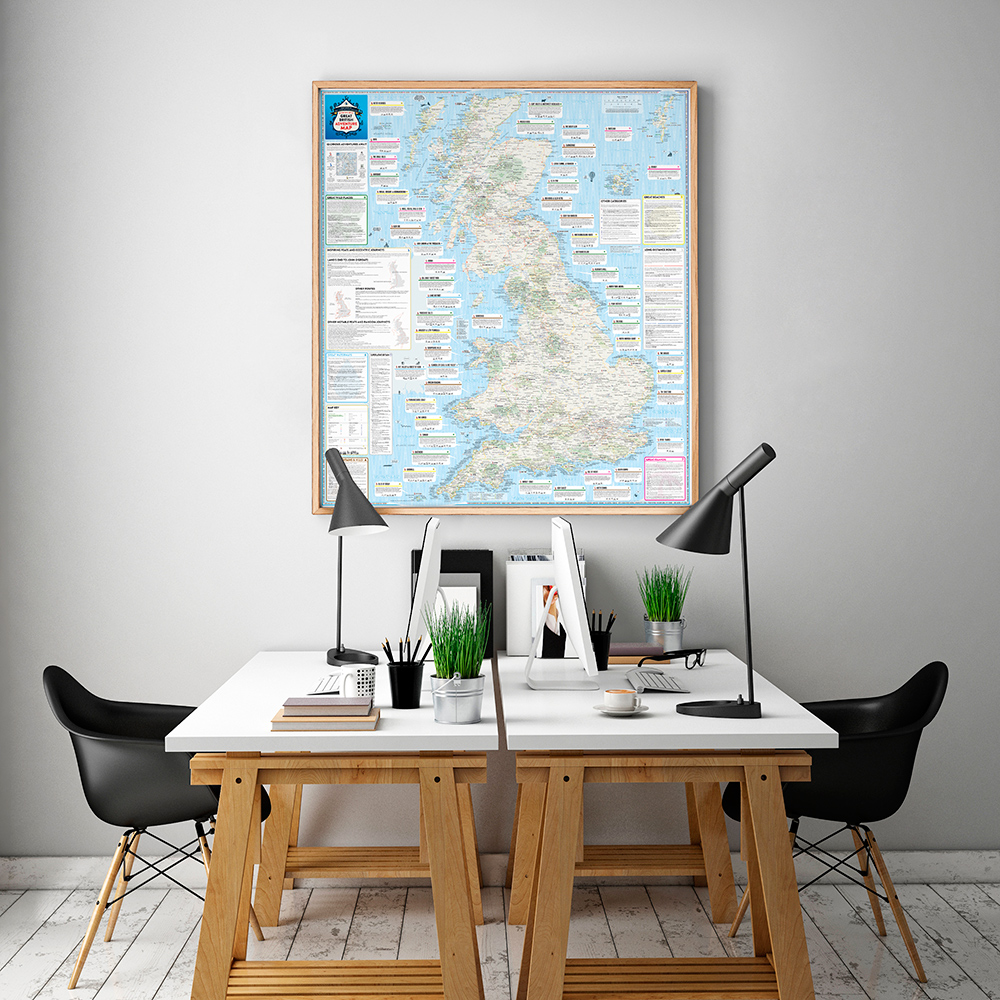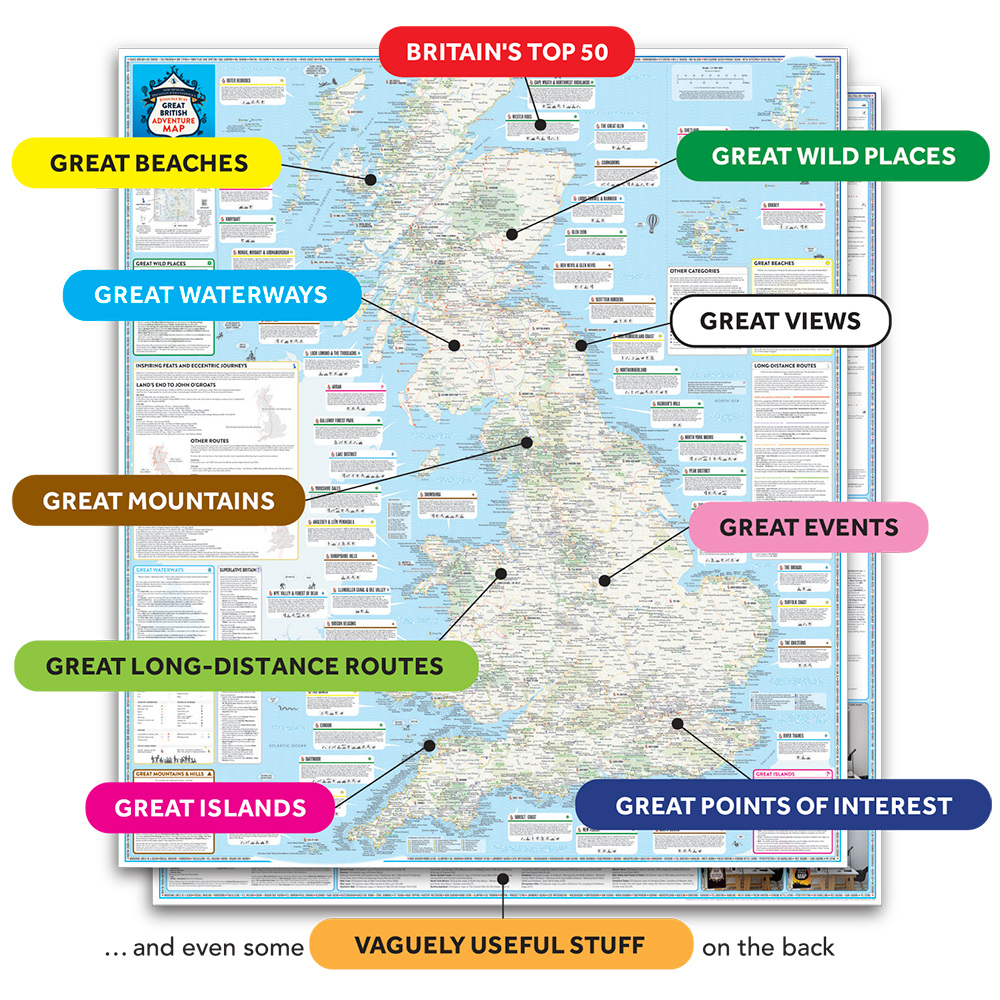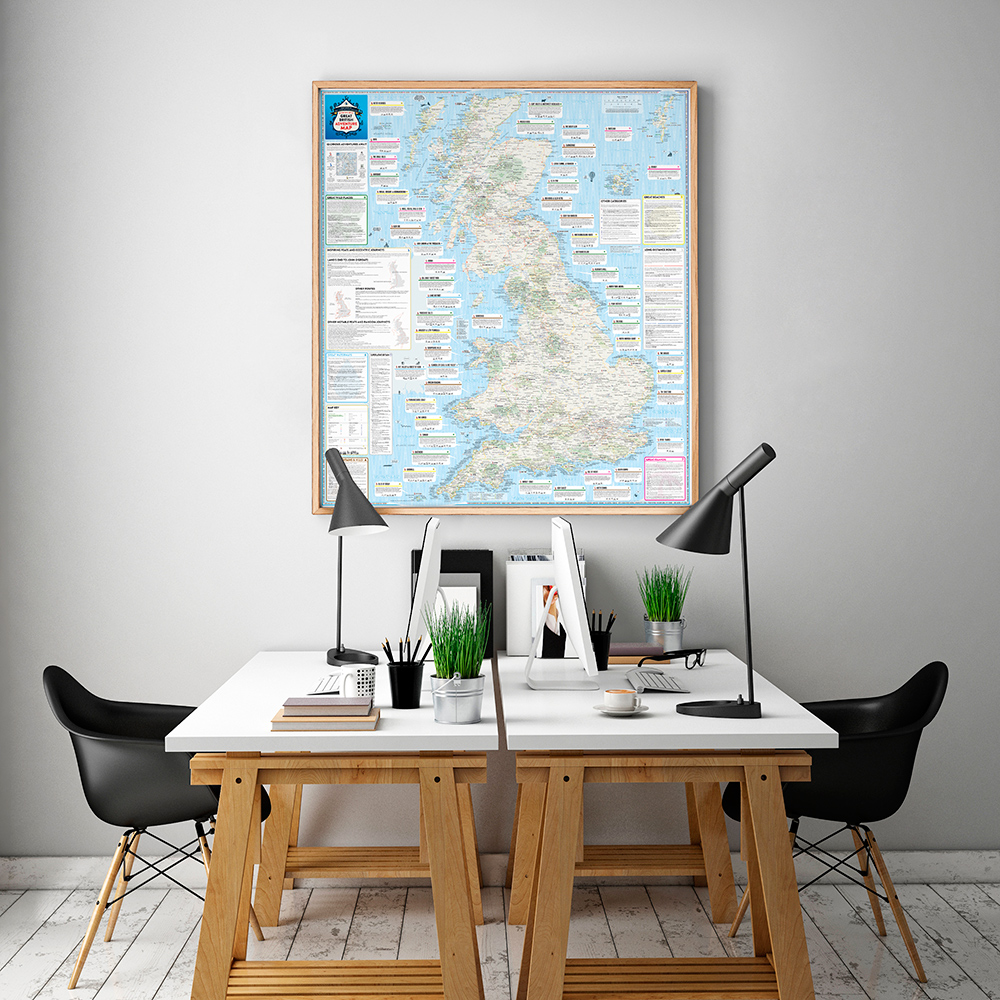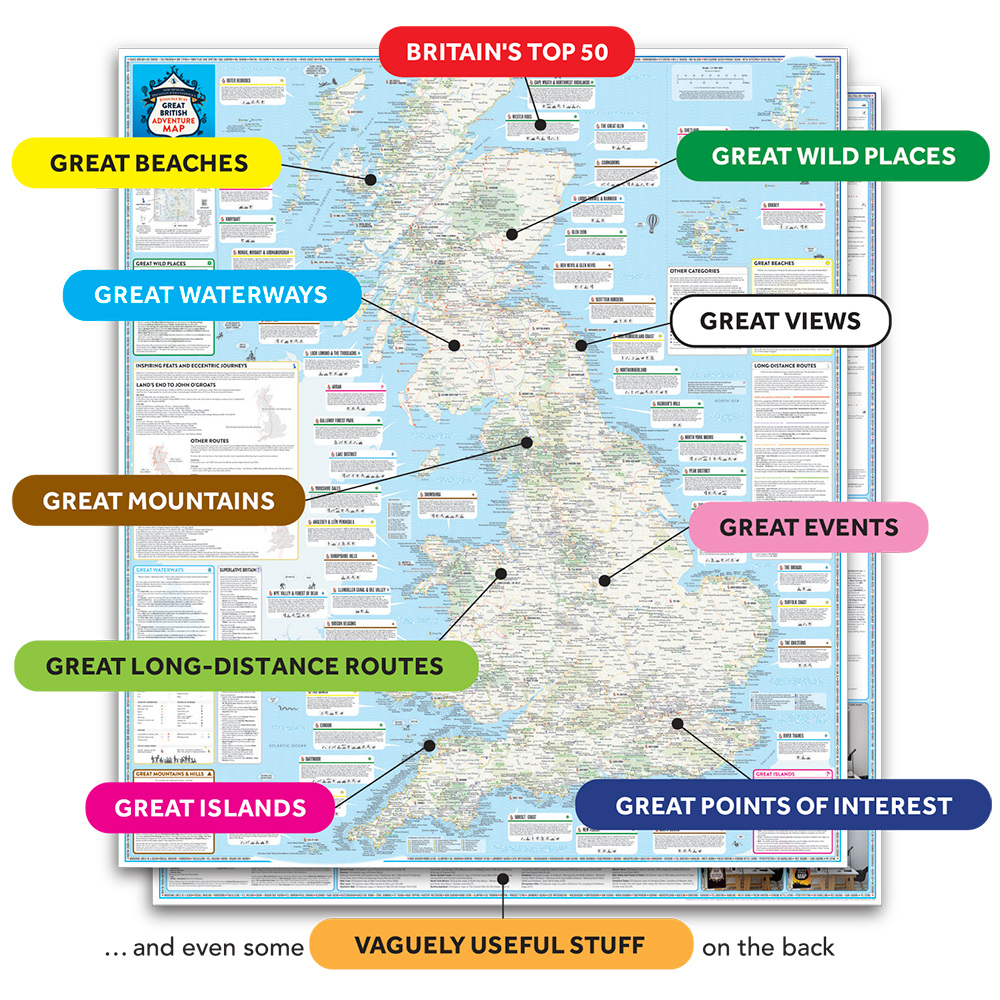 STG's Joyously Busy Great British Adventure Map - Framed
The Ultimate Adventure Map of Britain
The Great British Adventure Map features 2,500 of Britain's great wild places, mountains, islands, beaches, waterways, viewpoints, eccentric events and long-distance routes, peppered with some randomly inspiring trivia and amusingly quirky touches.
Designed to bring the fun back to holiday planning, and prove that Britain is a brilliant place for adventures big and small, it will inspire you to get outside and enjoy some great home-grown adventures. This map is joyously busy. Hopefully you will be too.
Dimensions: 100 cm x 89 cm. Made in Britain using FSC-certified paper. Perfect for map lovers, adventurers and, well, anyone!
GLORY WILL BE YOURS
Britain is beautiful, perfectly proportioned and small enough that you can explore it properly without having to blag an enormous career break. And with so much variety - superb coastline, idyllic islands, luscious landscapes and incredible views - crammed into such a small area, Britain really is the perfect adventure playground.
PRODUCT DETAILS
Full-colour map with the dimensions of 100 cm x 89 cm

Printed on FSC-certified professional mapping paper

Frame: a 20mm wide flat natural oak picture frame moulding, made from real oak wood with a natural finish. Acrylic safety glazing looks just like glass but is much lighter and safer. Taped at the back and hanging kit attached, so it's ready to hang as soon as you get it.

Dreamed up, designed and made in sunny Britain
** INCLUDES SHIPPING TO UK ONLY - DELIVERY USUALLY WITHIN 6 - 7 WORKING DAYS - FOR OTHER DESTINATIONS PLEASE CONTACT US! **
What Customers are Saying
"Love these maps. Ours is framed in the hall and is always a talking point. Thoughtfully created, ticklingly funny and beautifully presented - an ideal gift!"
"Awfully, spifflingly British"
"Awfully, spifflingly British. These folks take those many things that make Britain, British; our ludicrously mis named villages, our Quirky quirks, our amusing byways and sideways view of the world, and put them onto maps. Such an amusing present or a fun poster for your library (...)"
"Brilliant... and hilarious"
"Well worth buying especially if you have a good sense of humour!"
Related Products
Save 20% and get free shipping on orders of £30 and over ! Simply add this code on checkout: DROPANDGIMME20
DELIVERY DETAILS
FREE standard UK delivery for all products. For other preferred delivery options:
UK first class: £2.80 (delivery time 2-3 working days)

UK express: £8.00 (order by 2pm for next day delivery before 12 pm)

Outside UK standard: £10.00 (delivery time varies by country)
For full details, please check out our About page. If you have any questions regarding delivery, don't hesitate to contact us.