Great British Place Names Map
Fulking Hill! It's the funniest map of Britain... The perfect gift for that special friend who laughs at rude-sounding place names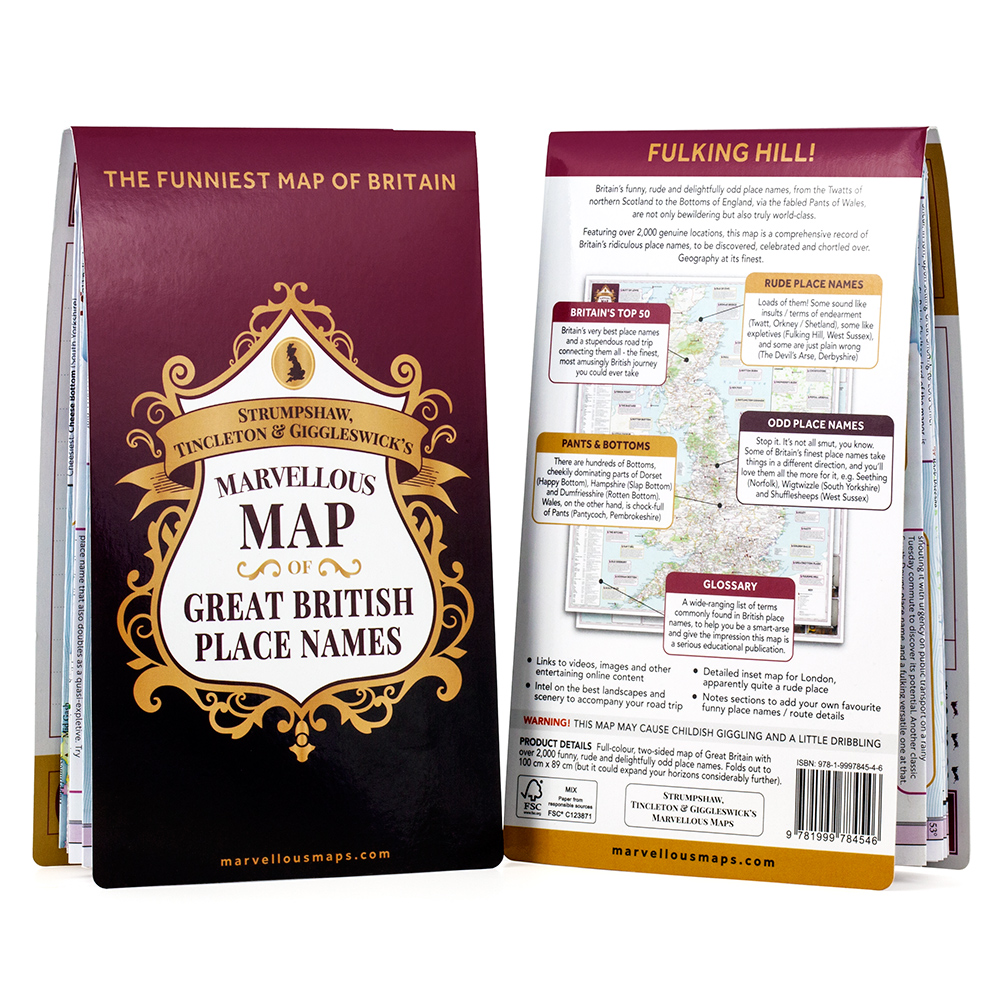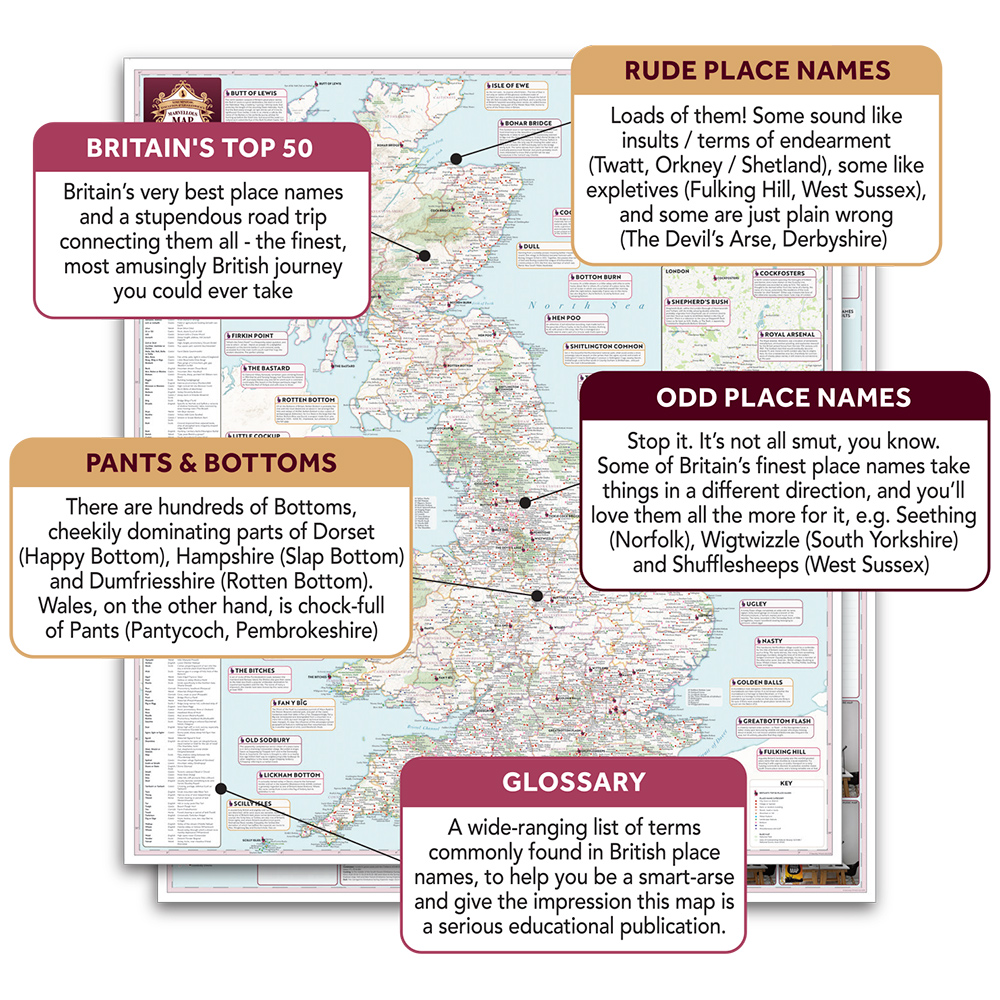 Featuring over 2,000 genuine locations, this map is a comprehensive record of Britain's funny, rude and delightfully odd place names, to be discovered, celebrated and chortled over. Geography at its finest.
Fancy A Discount?
See more Marvellous Maps below. Use DROPANDGIMME20 at checkout to get 20% OFF 2 or more maps
Fulking Hill!
The sheer number of funny, rude and delightfully odd place names that bejewel Britain, from a pair of Twatts in Scotland to the many Bottoms strewn across England, via a plethora of Welsh Pants, is not only bewildering, but also truly world-class.
Refreshed and redesigned for Christmas 2018, the Marvellous Map of Great British Place Names is a full-colour, two-sided map folding out to 100 cm x 89 cm, featuring:
Britain's Top 50: Britain's very best place names and a stupendous road trip connecting them all - the finest, most amusingly British road trip you could ever take.

Rude Place Names: Loads of them! Some sound like insults / terms of endearment (Twatt, Orkney / Shetland), some like expletives (Fulking Hill, West Sussex), and some are just plain wrong (The Devil's Arse, Derbyshire)

Pants & Bottoms Galore: There are hundreds of Bottoms, cheekily dominating parts of Dorset (Happy Bottom), Hampshire (Slap Bottom) and Dumfriesshire (Rotten Bottom). Wales, on the other hand, is absolutely chock-full of Pants (Pantycoch, Pembrokeshire).

Odd Place Names: Stop it. It's not all smut, you know. Some of Britain's finest place names take things in a different direction, and you'll love them all the more for it, e.g. Seething (Norfolk), Wigtwizzle (South Yorkshire) and Shufflesheeps (West Sussex)

Glossary: A wide-ranging list of terms commonly found in British place names, to help you be a smart-arse and give the impression this map is a serious educational publication
Dreamed up, designed and made in sunny Britain, using only FSC-certified paper.
what our customers are saying
"Great for planning sightseeing trips"
"Great for planning sightseeing trips around the UK taking in as much as possible. I've spent many a happy hour pouring over where I am going to start."
"Love these maps. Ours is framed in the hall and is always a talking point. Thoughtfully created, ticklingly funny and beautifully presented - an ideal gift!"
"A map of all Britain's rude place names"
"A map of all of Britain's rude place names - vital work, we're all very grateful."
ONE MAP, THREE FORMATS
Each Marvellous Map comes in 3 formats: folded, flat and framed. And when you buy a framed map, we'll send you the folded version for free too.