STG's Rather Cheeky Map of Great British Bottoms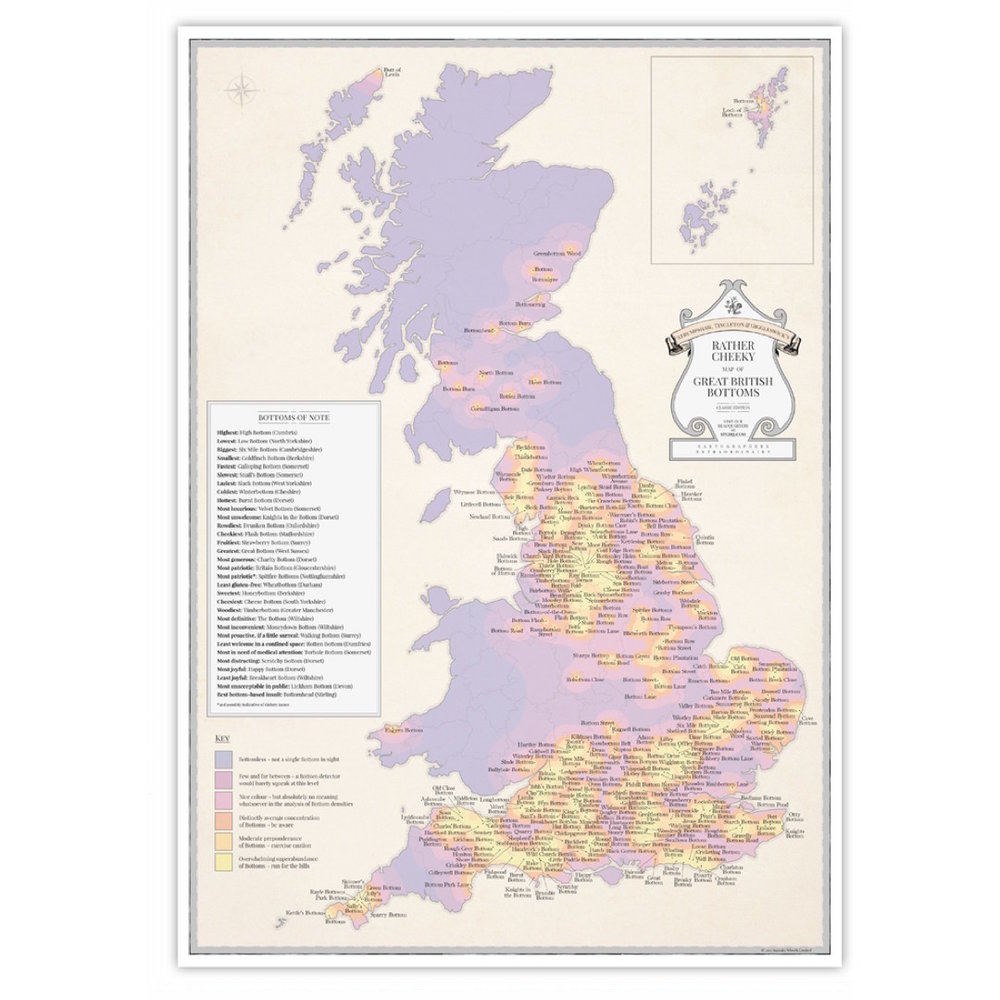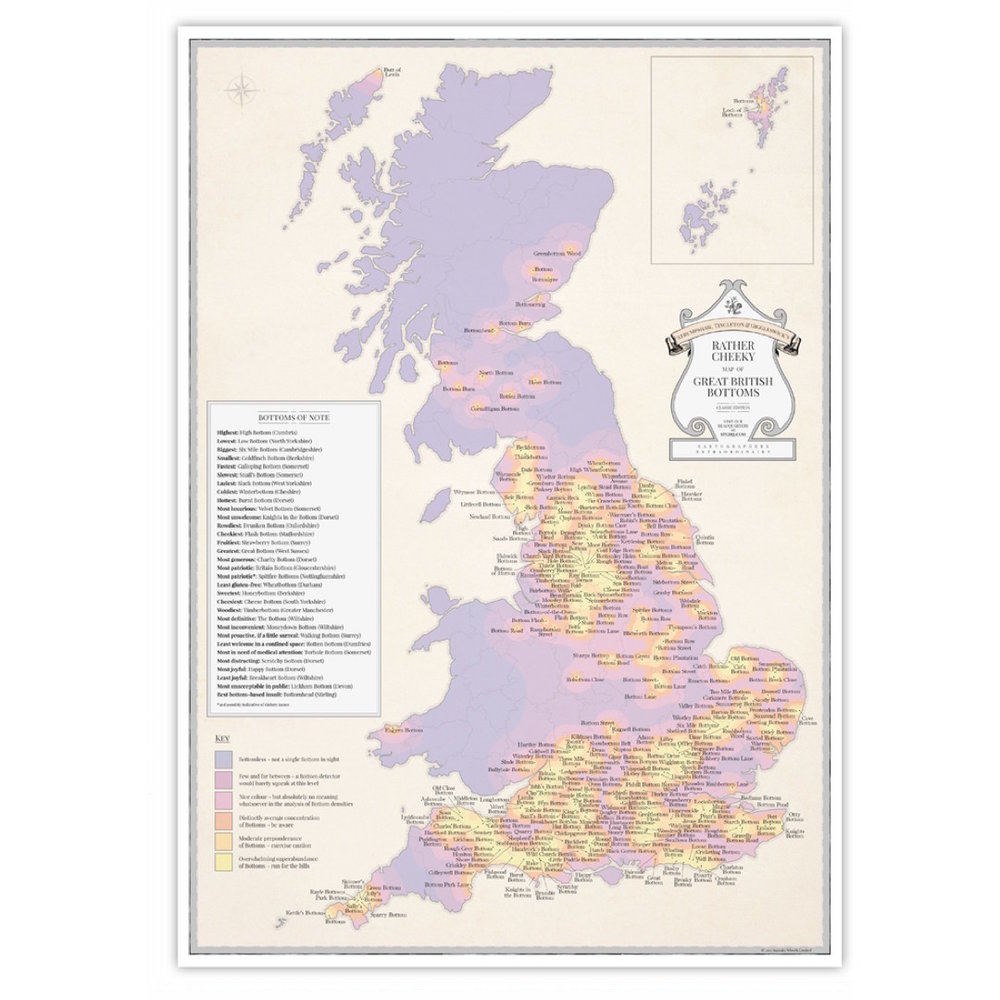 STG's Rather Cheeky Map of Great British Bottoms
The Cheek Of It
Featuring 318 Great British place names all involving the word 'Bottom', ST&G's Rather Cheeky Map is the perfect riposte to anyone who suggests that maps are dull. From Scratchy Bottom in Dorset to the Loch of Bottoms in the Shetland Islands, Great Britain is strewn with Bottoms.
For the first time in history, this little-known but highly enjoyable fact is being made available in the form of an A3-sized print, as cartographers extraordinaire Strumpshaw, Tincleton & Giggleswick proudly present their Rather Cheeky Map of Great British Bottoms - a map showing only those place names displaying a bit of Bottom. It's the map equivalent of the archetypal British builder, only easier on the eye.
KEEP THE BRITISH END UP
Not only is the Rather Cheeky Map of Great British Bottoms a pleasing eyeful, partly fashioned on geological maps of old, but it is also delightfully entertaining and - dare we say it - educational, showing the spread of Bottoms across the land, heatmap-style, and answering questions such as 'what Great British Bottom is closest to me?', 'where in Britain should a Bottom enthusiast go?' and 'what are the coldest, laziest, cheesiest and most inconvenient Bottoms of them all?'
The Rather Cheeky Map of Great British Bottoms is the perfect gift for anyone with a love of Britain, a cheeky sense of humour or a map fetish. Also, if you know someone who is in dire need of livening up, this could be just the ticket for them.
PRODUCT DETAILS
Full-colour map with the dimensions of A3, 297mm x 420 mm

Printed digitally on high quality 175 gsm uncoated paper.

Shipped in a super-sturdy unmarked cardboard envelope, with no order details - perfect for wrapping / sending as a gift

Dreamed up, designed and made in sunny Britain
What Customers are Saying
"Love these maps. Ours is framed in the hall and is always a talking point. Thoughtfully created, ticklingly funny and beautifully presented - an ideal gift!"
"Awfully, spifflingly British"
"Awfully, spifflingly British. These folks take those many things that make Britain, British; our ludicrously mis named villages, our Quirky quirks, our amusing byways and sideways view of the world, and put them onto maps. Such an amusing present or a fun poster for your library (...)"
"Brilliant... and hilarious"
"Well worth buying especially if you have a good sense of humour!"
Related Products
Save 20% on orders of 2 or more maps! Simply add this code on checkout: DROPANDGIMME20
DELIVERY DETAILS
FREE standard UK delivery for all products. For other preferred delivery options:
UK first class: £2.80 (delivery time 2-3 working days)

UK express: £8.00 (order by 2pm for next day delivery before 12 pm)

Outside UK standard: £10.00 (delivery time varies by country)
For full details, please check out our About page. If you have any questions regarding delivery, don't hesitate to contact us.