STG's Fastidiously Orchestrated Great British Music Map - Framed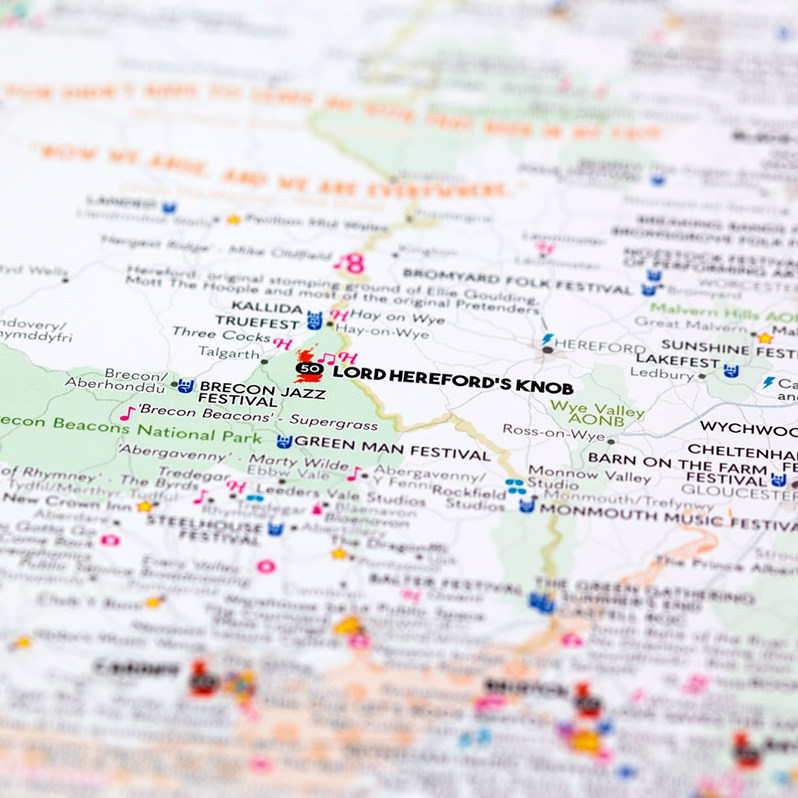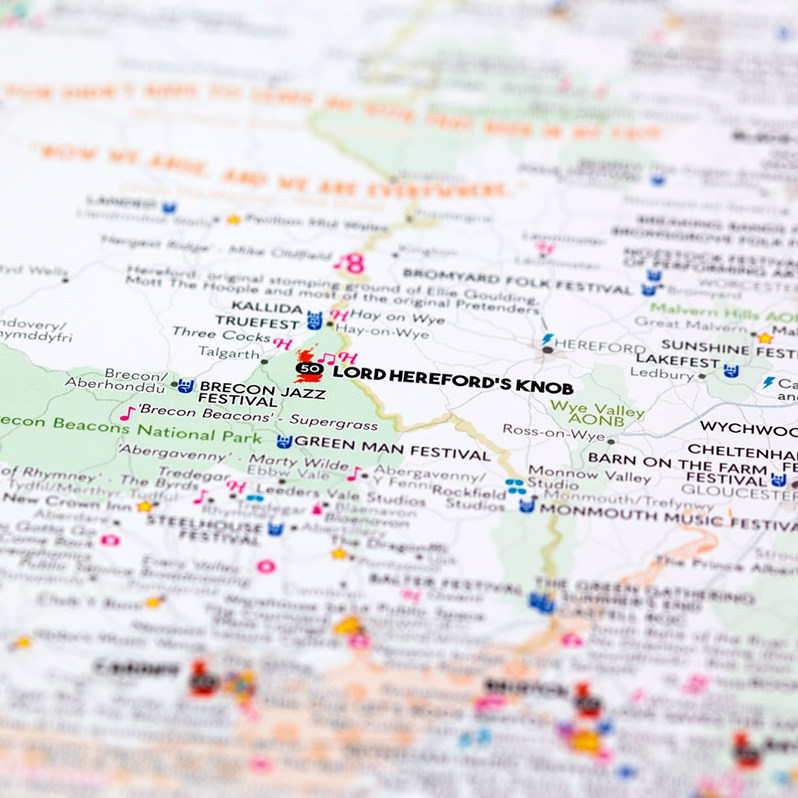 STG's Fastidiously Orchestrated Great British Music Map - Framed
The Map That Rocks
When it comes to music, Britain calls the tune on the world stage, playing second fiddle to nobody. This new and unique fold-out map celebrates Britain's globe-straddling musical prowess, featuring over 2,000 festivals, live music venues, places celebrated in song and a symphony of tenuously tuneful trivia… plus a unique road trip through Britain's top 50 music locations (and the perfect playlist to go with). It really blows Britain's trumpet.
Dimensions: 100 cm x 89 cm. Made in Britain using FSC-certified paper. Perfect for music lovers of every kind.
BLOWING BRITAIN'S TRUMPET
Music and maps may not be typical bedfellows, but at long last they've come together for a unique collaboration. If you've ever wondered where the best festivals are located, where your favourite pop video was filmed, which locations around Britain have inspired classic tunes... or if you simply fancy going on an epic music-themed road trip around Britain with the perfect playlist blaring from your stereo… this map is for you.
The Fastidiously Orchestrated Great British Music Map features:
Over 350 festivals, including the big, famous ones, the small but perfectly formed ones, and those in the most stunning locations

Over 700 live music venues, including over 400 essential grass-roots venues identified by the Music Venue Trust

Over 700 places celebrated in song titles / lyrics, album titles and band / artist names, plus cover art and music video locations

Trivia! Loads of famous studios, riotous gigs, funny quotes, shrines to dear departed stars, and other glorious locations of musical anecdote and intrigue

Britain's Top 50 music locations, a glorious road trip connecting them all and playlist suggestions bringing them to life in unique fashion (Note: the road trip & playlist are on the back of the fold-out version of this map only, not the framed version - cos the frame's kind of in the way - but fear not, they're both available in digital form at marvellousmaps.com/music).
PRODUCT DETAILS
Full-colour map, 100 cm x 89 cm

Printed on FSC-certified professional mapping paper

Frame: a 20mm wide flat natural oak picture frame moulding, made from real oak wood with a natural finish. Acrylic safety glazing looks just like glass but is much lighter and safer. Taped at the back and hanging kit attached, so it's ready to hang as soon as you get it.

Dreamed up, designed and made in sunny Britain
** INCLUDES SHIPPING TO UK ONLY - DELIVERY USUALLY WITHIN 6 - 7 WORKING DAYS - FOR OTHER DESTINATIONS PLEASE CONTACT US! **
What Customers are Saying
"Love these maps. Ours is framed in the hall and is always a talking point. Thoughtfully created, ticklingly funny and beautifully presented - an ideal gift!"
"Awfully, spifflingly British"
"Awfully, spifflingly British. These folks take those many things that make Britain, British; our ludicrously mis named villages, our Quirky quirks, our amusing byways and sideways view of the world, and put them onto maps. Such an amusing present or a fun poster for your library (...)"
"Brilliant... and hilarious"
"Well worth buying especially if you have a good sense of humour!"
Related Products
Save 20% and get free shipping on orders of £30 and over! Simply add this code on checkout: DROPANDGIMME20
DELIVERY DETAILS
FREE standard UK delivery for all products. For other preferred delivery options:
UK first class: £2.80 (delivery time 2-3 working days)

UK express: £8.00 (order by 2pm for next day delivery before 12 pm)

Outside UK standard: £10.00 (delivery time varies by country)
For full details, please check out our About page. If you have any questions regarding delivery, don't hesitate to contact us.